Umbrella Insurance Policy
Safeguard Your Future with Comprehensive Umbrella Insurance
Why Umbrella Insurance Matters More Than You Think
In a world full of uncertainties, umbrella insurance serves as an additional layer of protection. Serving communities in Ohio and surrounding areas, we offer umbrella insurance policies that are tailored to your individual needs.
When you partner with us, you gain:
Enhanced Peace of Mind: Extra coverage for those "what if" moments life throws at you.
Local Expertise: We understand the nuances of your area's liability risks.
Trustworthy Safety Net: We're here to catch you when standard policies reach their limits.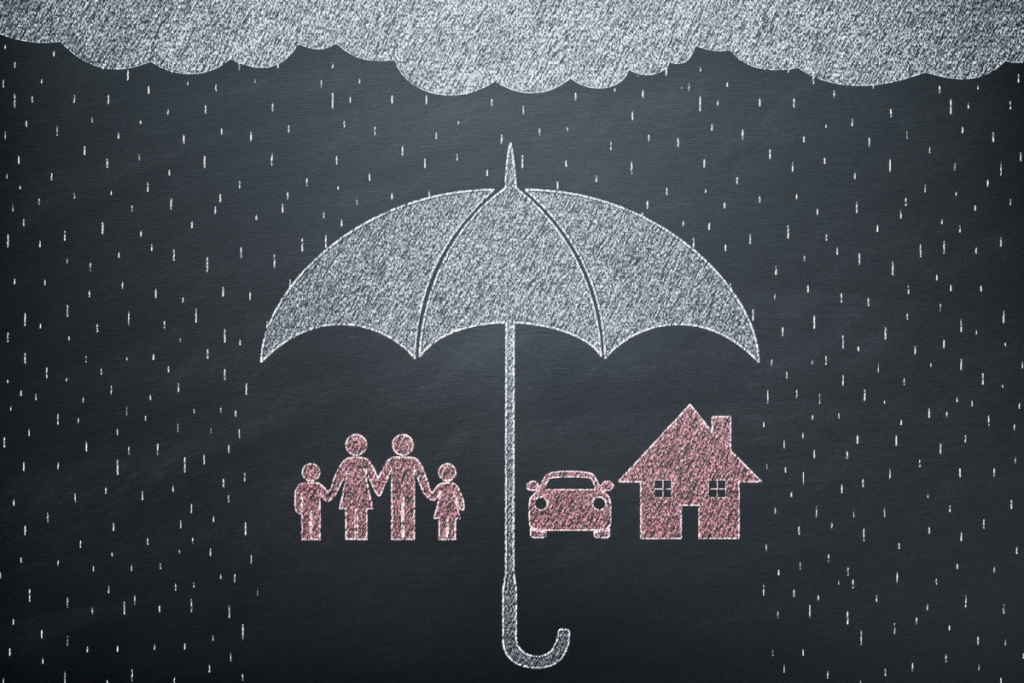 What is Umbrella Coverage For?
You're hosting a gathering, and an accident occurs, leaving someone severely injured. Your homeowner's insurance covers up to a certain amount, but what about the rest?
Umbrella insurance is that added layer that kicks in when your standard policies are exhausted. It's not just another policy; it's an added peace of mind.
Why You Need An Umbrella Policy:
Asset Protection: Your hard-earned assets like homes, cars, and savings could be at risk in a high-cost claim. Umbrella insurance provides that extra shield.
Extended Liability Coverage: Beyond the limitations of your auto or home insurance, umbrella insurance covers extra costs, be it legal fees or medical expenses.
Financial Security: Unexpected high-cost events can be financially crippling. An umbrella policy ensures you can navigate such events without compromising your financial future.
Examples of When You'll Lean Your Umbrella Insurance Policy:
Severe Auto Accidents: When accidents result in extensive medical bills or property damage that exceeds your auto insurance.

Personal Liability Claims: Scenarios like libel, slander, or other personal lawsuits can be financially draining.

Rental Unit Incidents: If you own rental property, and something happens to a tenant that exceeds your landlord insurance, an umbrella policy has you covered.
Who Needs An Umbrella Policy?
Umbrella insurance is a safeguard for your safeguard, adding an extra layer of protection on top of your existing policies like home, auto, and boat insurance. While it's easy to think that umbrella insurance is only for the wealthy, that's a common misconception. Here's a broader look at who could benefit from this coverage:
Who Should Consider Umbrella Insurance:
Young Professionals: Starting your career often means a growing income and assets; safeguard them early on.

Parents: Children can sometimes be unpredictable. Protect yourself from potential accidents or liabilities involving your children.

Pet Owners: Animals can be loving but also unpredictable. From bites to property damage, extra coverage can come in handy.

Social Media Enthusiasts: In today's digital age, personal liabilities can even extend to the online world. Protect against possible defamation or slander lawsuits.

Freelancers: You may work from home, but your liability risks aren't zero—especially if clients or vendors visit you.

Volunteers: Acts of goodwill can sometimes go awry. If you're involved in community services, this extra coverage can be a safety net.

Everyday Citizens: In a litigious society where lawsuits are increasingly common, everyone can benefit from the extra protection an umbrella policy offers.
Life is unpredictable; that's why you have insurance in the first place. But when life exceeds unpredictability and crosses into the extraordinary, you'll want an umbrella policy in your back pocket. Don't wait for the storm to hit to realize you need more coverage.
Little Known Facts & Tips About Umbrella Insurance
Umbrella insurance is often misunderstood, but it offers critical financial safety nets that go beyond the obvious:
Overseas Coverage: Many people don't realize that an umbrella policy can offer protection even for incidents that occur abroad.

Non-Auto Related Accidents: Accidents don't just happen in cars or homes; umbrella insurance can cover incidents where you're personally liable, no matter the location.

Exclusions Matter: Make sure to understand what your umbrella policy does not cover and consider additional specialized coverage for those areas.
What sets Crunelle apart? 
It's more than just insurance; it's a commitment to you:
Local Expertise: Our familiarity with the local area enables us to provide highly customized plans.


Customized Plans: We take the time to understand your unique circumstances and offer matching coverage.


Multiple Carriers: Our affiliations with leading carriers allow us to bring you the most competitive rates.
Secure Your Future With Our Umbrella Insurance Today
Get a Customized Quote Today!
Don't wait for a rainy day to find out your basic insurance policies fall short. Contact us now to find the best umbrella insurance to protect you and your assets.
Contact us for a free, no-obligation quote tailored to your needs!
Navigate Life's Uncertainties with Confidence
The insights you need to make informed decisions for you and your loved ones.