Nathan and Katherine Kendjorsky are residents of Delaware, Ohio where they proudly operate Strive-To-Be Custom Screen Printing. 
Their relationship with the Crunelle's is rooted in the Ohio Valley.  Nathan and Amie went to high school together during Nathan's glory days as a wrestler.  Fast forward to current day where they enjoy meeting up with one another at the NCAA Wrestling Championships. 
Nathan moved to Columbus after Graduating from WVU with a Bachelor of Fine Arts (Visual Communications) and completed his education at Franklin University with a Masters of Science in Marketing and Communications. He has since had the pleasure of working with both Amie and Jonathan to create logos for their respective businesses.  
Katie is a graduate of Ohio Dominican University and Ohio University Heritage College of Osteopathic Medicine where she earned her Doctorate of Osteopathic Medicine. She went on to complete an Internal Medicine Residency at Riverside Methodist Hospital, and then completed an Endocrinology Fellowship at the University of Kentucky Medical Center. She currently is a practicing Endocrinologist with OhioHealth Physicians Group. 
In 2014 they welcomed their daughter, Olivia and shortly after Olivia's arrival Strive-To-Be Custom Screen Printing was also born. Nathan exited corporate America and entered the world of entrepreneurship with the start of their company. He was no stranger to hard work, while growing up working with his uncle in the screen printing industry making the transition easy. It also gave him the flexibility that was needed at that time to be a stay-at-home father while Katie completed her fellowship.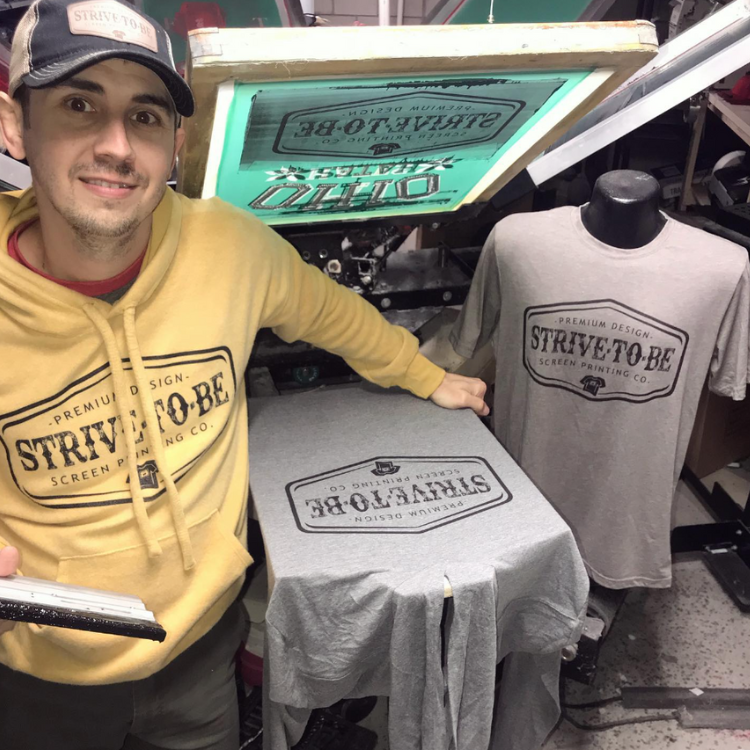 After relocating back to Ohio in 2018, Strive-To-Be was also relocated, from a garage in Lexington Kentucky to a new home in Delaware Ohio where Nathan now operates the company from his 'shop' which is a part of the family home. Life looks a little different now, with a five-year-old ballerina-gymnast, who now assists dad with the day-to-day workings of the shop. We take pride in the fact that we have made our dreams a reality, and are humbled by the business that our customers provide.
Today the business continues to evolve specializing in team uniforms, spirit wear, business uniforms, and apparel for events, organizations, and parties. Over the last couple of years we have expanded our business to include embroidery, dye sublimation and heat press services. Our business thrives because of our customer feedback and personal referrals. Feel free to contact us for a quote, we would be delighted to be a part of your next event.
Please email [email protected] or visit their website, where they strive to be better versions of themselves every day.